CMO quality via a trusted western-centered network
Reduce regulatory risk and strengthen supply security with a partner dedicated to CMO quality
Pharmaceutical companies are increasingly seeking to prioritize CMO quality for regulatory compliance and to maintain global security of supply. In addition to being a strong, stable CMO leader for APIs, high potency APIs (HPAPI) and intermediates, Evonik operates a Western-centered global network known for its high-quality production and supply. Our commitment to CMO quality is driving continuous investments in advanced technologies and manufacturing capabilities across each of our U.S., European and Asian sites. If you are seeking to outsource a new project or shift an existing one to a more reliable facility, we have the global scale, expertise and flexibility to serve as your long-term partner.
OUR SITES
TIPPECANOE SITE, LAFAYETTE, IN, USA
Our Tippecanoe site has been meeting the small, medium and large-scale production requirements of pharmaceutical companies seeking reliable CMO quality for more than 20 years. In addition to being a high-quality CMO facility for small molecule APIs and advanced intermediates, it is the world's single largest manufacturing site for HPAPIs, with the ability to produce several different HPAPI steps in parallel. In total, the site has five plants with a total reactor capacity in excess of 860m³.
Key capabilities include:
Extensive cryogenic capabilities (-80 ºC)
A variety of reactors with volumes up to 7,600 liters
OEL down to 0.1 μg/m³
Large-scale fermentation capacities of 2,500m³
Hanau, Germany
Hanau is a high-quality CMO facility near Frankfurt in Germany with a total reactor capacity of 196m³. The large pharmaceutical site includes multiple cGMP plants capable of manufacturing advanced API and intermediates including those requiring organometallic chemistry.
Key capabilities include:
Catalysis: Up to 25 bar, -80 °C to 200 °C, 250 L to 8,000 L
Dedicated kilolab plant for the custom synthesis of highly pure PEGs and mPEGs
Modular cGMP continuous processing plant
cGMP suite for small-scale HPAPI production (OEL down to 0.05μg/m³)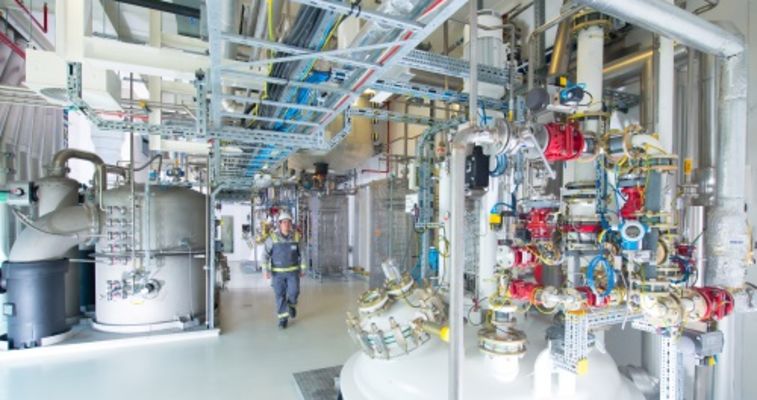 DOSSENHEIM, GERMANY
Dossenheim is a cGMP site near Heidelberg in Germany with a total capacity of 180m³. The site has several cGMP and non-cGMP plants for the production of APIs and intermediates, and has a range of capabilities including organometallic chemistry, and either batch or continuous processing.
Fermas site, Slovenska, Slovakia
Fermas is a multi-purpose microbial fermentation facility for amino acids, as well as for advanced food ingredients and nature-identical materials that utilize biofabrication technologies. The facility has a total fermentation volume of 1,150m³ and a pilot / seed volume of 17 x 5m³ with continuous sterilization and sterile feeding lines. The site is equipped with a variety of scalable downstream processing technologies including a new, flexible pilot plant with ultra-filtration, nano-filtration and evaporation units.
HAM, FRANCE
Ham, located in Northern France, is a high-quality CMO site for pharmaceutical-grade amino acids and their derivatives. The multi-purpose facility includes three cGMP plants including pilot plants, and has a total reactor capacity of 65m³. Capabilities at the site include purification and ion chromatography.
Nanning, China
Nanning, located in southern China, is a multi-purpose cGMP facility, with a total reactor capacity of 70m³. With several plants as well as crystallization and ion exchange technologies, the site is equipped to handle a broad range of APIs, amino acids, fermentation and biocatalysis projects.
Regularly conducted audits in all manufacturing facilities measure our performance and guarantee top-notch quality assurance of our pharmaceutical products and our services offered.
Looking for information compiled in one document? Our brochures offer an overview of relevant details in just a few pages.