Your leading global contract development and manufacturing organization (CDMO) for APIs and HPAPIs 
ARE YOU THINKING OF OUTSOURCING AN API PROJECT?
As a contract development and manufacturing organizations (CDMO), Evonik's Drug Substance Product Line provides companies with the peace-of-mind they need to work on challenging drug development and drug manufacturing projects. By partnering with Evonik you benefit from comprehensive services and expertise that comes from a multi-national company. Evonik is one of the world's largest contract development and manufacturing organizations (CDMO). We have unique core competencies across chemistry, engineering and biotechnology and combine these with a proud record of performance directly attributed to quality, supply security and sustainability. With a business-for-business (B4B) philosophy, we embrace the shared interests of all businesses – no matter the size – because we know that everyone benefits from a stronger and more purposeful collective effort. 
YOUR PREFERRED PARTNER FOR COMPLEX APIs AND LARGE HPAPI PROJECTS
For more than two decades we have worked with our customers on innovator-focused HPAPI projects and complex API processes. Our established manufacturing network supplies APIs, HPAPIs and intermediates from clinical trial demands up to the largest commercial volumes. If you are looking for a reliable partner with high-quality production and a sustainable supply, we can help you – regardless of your project size or complexity.
At a glance: Evonik as prefered drug substance solution provider for APIs and HPAPIs
3
cGMP CDMO Production Sites
 

3
Supporting Sites for Fermentation/Amino Acids/Isolation

>15
Differentiating Technologies
 

>1000 m3
cGMP Capacity for Complex APIs
 

>300
Projects/Products Produced
When you partner with Evonik you benefit from:
A leader in API contract development & manufacturing
Innovator-focused solutions (speed, quality & cost)
Experience serving a broad client base including > 13 of the top 20 global pharma companies
A strong foundation in synthesis of HPAPI and complex API at all scales
A leader in emerging and complex technologies
3 FDA/EU approved development and commercial scale production sites across the US and Germany
3 supporting production facilities focused on fermentation, isolation & with amino acid experience in France, Slovakia & China
A B4B approach with companies large and small to promote greater knowledge exchange, stronger collaboration and active alliances 
If you have pharmaceutical API or intermediates outsourcing requirements we have the facilities and staff expertise you are looking for.
OUR PRODUCT PORTFOLIO FOR GENERIC APIS AND INTERMEDIATES
Developing and manufacturing APIs and complex intermediates requires experience of advanced synthesis and process development. We offer customized chemical GMP synthesis for small molecule APIs from clinical trials to commercial supply.
Late-phase clinical trials require a scalable process and our experts can advise you on scaling up and work together with you to design process and impurity control strategies. 
Explore OUR BROAD PORTFOLIO OF differentiating TECHNOLOGIES available FROM PROCESS DEVELOPMENT TO COMMERCIAL SCALE
Our highly differentiated portfolio of advanced technologies provides you with flexible solutions for even the most complex syntheses of complex APIs, HPAPIs and intermediates.
We master key synthesis and purification technologies including:
Transition metal catalysis: Full service from catalyst screening and reaction kinetic models to scale-up and production. Catalyst recycling by organic solvent nanofiltration. Learn more
Cryogenic chemistry: One of the world's largest GMP capacities for cryogenic reactions
Amino acid chemistry: A trusted supplier of pharmaceutical amino acids and dipeptides
Chromatography: small-scale GMP chromatography for ultra-HPAPI to commercial scale GMP chromatography.
Biocatalysis: full service from screening to large-scale production.
Chiral synthesis: decades of expertise in asymmetric synthesis and chiral resolution.

SUPPORTING TECHNOLOGIES
Alongside our core technological competencies, we also have highly differentiated skills with subject matter experts for:
Precious Metal Recovery
Particle Design
Crystal Engineering
Chromatography
Sustainability assessments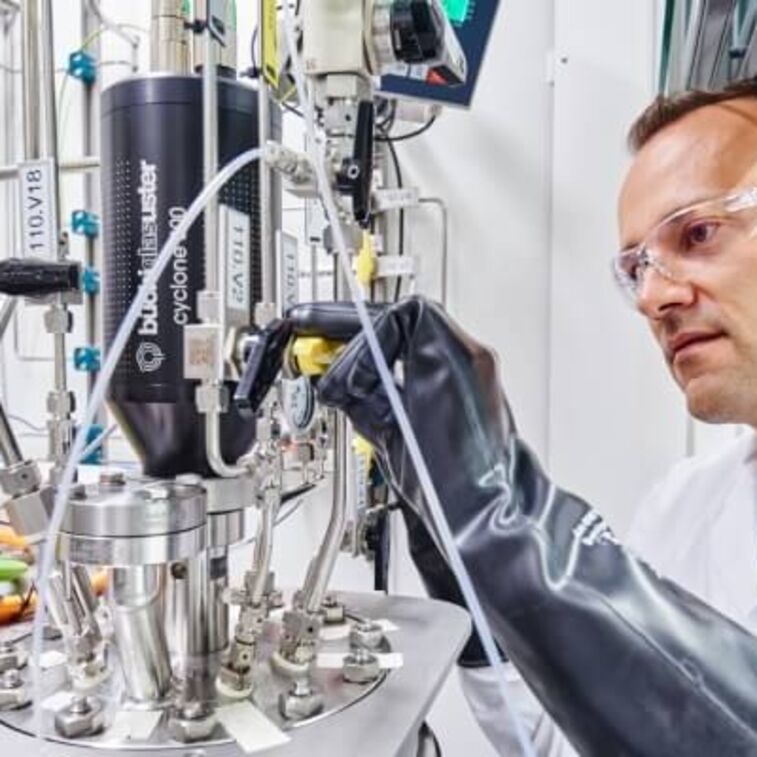 Why are advanced technologies increasingly important for complex small molecule synthesis? In this whitepaper we outline what the growth in technology platforms used in chemical synthesis means for small, medium and large pharma companies.
Selecting a CMO partner is increasingly determined by the size, strength and flexibility of their advanced technology portfolio. This whitepaper will help you assess what you need for large or complex API projects – especially those focusing on large-scale manufacture of HPAPIs.
A solution provider for innovator-focused HPAPIS
Highly potent active pharmaceutical ingredients (HPAPIs) are an example of compounds that can require a range of classical and advanced technologies to support their synthesis.
Typically, HPAPI projects can have several process steps, with at least some of these steps requiring reaction types such as amide coupling, chiral resolution, catalysis, biocatalysis, or cryogenic chemistry. HPAPIs represent an increasingly significant share of the pharmaceutical drug pipeline – especially for anti-cancer treatments.
Evonik has the largest capacity for custom contract manufacturing HPAPIs with more than 30 years of expertise in this specialized area. Manufacturing highly potent APIs safely in large volumes requires extensive project experience with toxicology, industrial toxicology, environmental health & safety (ESHS),  ergonomics and engineering. We are one of a few CDMOs which have the capabilities and experience to turn small-scale development lab quantities to large-scale commercial volumes with batch sizes of over 450 kg, with experience that dates back to the early 1990s. When you are considering the production of large volumes of an HPAPI, please come and see us to learn more.
In the past 20 years, the structures of APIs have become increasingly complex as the demand for specialized or personalized therapeutics increases, and innovators search for new chemical modalities in drug discovery and design. The average number of steps required for the chemical synthesis of small molecule APIs has almost doubled in the last two decades.
Using classical chemistries to synthesize APIs of increasing complexity is often not feasible or desirable. Most small molecules in clinical development require multiple different advanced technologies for a single synthetic sequence. Examples of advanced technologies used to synthesize complex APIs include containment for high potency APIs, continuous processing, synthesis and conjugation with PEGs and mPEGs, carbohydrate chemistry, online monitoring by process analytical technologies (PAT), catalysis and catalyst recycling, biocatalysis, cryogenic chemistry, as well as chromatography
It is challenging for any single pharmaceutical company or CDMO to develop a portfolio of advanced technologies that can accommodate the needs of all process steps involved in the production of such complex APIs.
For APIs requiring very special technologies – complex API chemistry – Evonik has a broad portfolio of advanced technologies. Whether you require complex synthesis of more than eight steps or certain building blocks such as chirality, you can partner with us for expertise and reliability.
Developing and manufacturing a drug requires a customizable approach because we know that each project is unique. Our fully integrated services offer you phase-appropriate support irrespective of project size:
Analytical services
Regulatory affairs services
API process research & development services
API clinical trial material supply services
API commercial production services
HPAPI product handling at large scale
Particle engineering services
For drug delivery and products we offer:
Solid form services
Bioavailability Enhancement services
As manufacturing solution providers, sustainability is a key topic for the future of our business success and a healthy world.
Our six sites in Europe, the U.S. and China have capacities from lab-scale through to small, medium or large-scale production:
Tippecanoe, USA: Five small molecule plants including three for HPAPIs with total reactor capacity of 860 m3.
Hanau, Germany: Multi-purpose cGMP site with 196 m3 capacity.
Dossenheim, Germany: Three cGMP and non-GMP plants for API and intermediates.
Fermas, Slovakia: Multi-purpose fermentation site.
Ham, France: Multi-purpose cGMP site: 65 m3 capacity.
Nanning, China: Three cGMP sites and four amino acid plants.
Evonik has been recognized as a recipient of the 2023 CMO Leadership Awards. For the sixth consecutive year, companies participating in the Contract Manufacturing Quality Benchmarking survey by Life Science Leader and Industry Standard Research (ISR) voted for Evonik to earn awards across five categories for its Capabilities, Compatibility, Expertise, Quality and Reliability.
SUBSCRIBE TO OUR DRUG SUBSTANCE MAILING LIST AND STAY UP TO DATE
Complete this form to receive updates on the latest news and information related to our drug substance solutions and the drug substance industry.