A development partner and solutions provider to the pharma industry
We reduce pharmaceutical risk and create lasting value for your APIs, ingredients, formulations and drug products
Evonik has served as a global development partner and solutions provider to the pharmaceutical industry for more than 60 years. Our broad portfolio of products, technologies and services is leveraged by more than 1,000 life science customers worldwide, including more than 90% of the world's top pharmaceutical companies, to support the development, scale-up and supply of their APIs, formulations and drug products. With more than 50 core competencies that extend across chemistry, biotechnology and process engineering, as well as a global network of manufacturing sites and labs, we have the size, strength and versatility to address the specific needs of even the largest or most complex projects. Contact us now to discover how we can become Your Competitive Advantage to reduce risk, improve quality, accelerate time to market, optimize product performance and strengthen supply security.
A CDMO partner to the pharmaceutical industry for advanced drug delivery
Evonik is the world's leading CDMO partner to companies who are seeking to transform their APIs into specialized pharmaceuticals in oral solid dosage or parenteral form. Few, if any, other CDMOs can match our ability to leverage a broad, integrated portfolio of functional excipients, technologies and value-adding services to help design, develop and manufacture pharmaceuticals that are safe, efficacious and differentiated. For many decades, our EUDRAGIT® and RESOMER® functional excipients have led the pharmaceutical market for oral solid dosage forms and controlled release parenterals. This extensive platform of standard and custom-grade range functional excipients is backed by a range of CDMO services that can support pharmaceutical companies during any stage of formulation development, scale-up and cGMP manufacturing. With modern, trusted manufacturing sites in North America and Europe, as well as a global network of formulation and application laboratories, we are strongly positioned to serve as a long-term CDMO partner.
A CMO partner for APIs and functional excipients utilized with small molecule pharmaceuticals
Evonik is one of the world's top 3 global CMOs for APIs and intermediates utilized with small molecule pharmaceuticals. Our broad portfolio of advanced technologies, Western-based network of GMP manufacturing sites, and extensive knowhow across chemistry, biotechnology and process engineering has been providing companies with peace-of-mind in the high-quality supply of their small molecule pharmaceuticals over many decades. For APIs and intermediates (bulk or controlled), we can support virtually any clinical or commercial scale. For high potency APIs (HPAPIs), we have the world's largest capacity from grams to tons and are equipped to handle OELs down to 5 ng / m3. Other core competencies include continuous processing, PEGs and mPEGs, carbohydrate chemistry, polymer API, microbial fermentation, biocatalysis, catalysis, chiral chemistry and cryogenic chemistry.
A preferred supply partner in the pharmaceutical industry for amino acids and pharmaceutical ingredients
Evonik is one of the world's largest global suppliers of amino acids and other ingredients used in pharmaceuticals. Our high-purity natural and non-natural amino acids and derivatives have been reliably used with pharmaceutical and medical nutrition applications for many years. With our use of fermentation, bioconversion and synthetic-based manufacturing processes, as well as trusted production sites across Europe and Asia, we are recognized as a safe, reliable choice for the consistent supply of high-quality ingredients. Across all key global markets such as the U.S., Japan and Europe, we are compliant for all monographs, as well as ICH Q7 (Good Manufacturing Practice of APIs). We also comply with the main infant medical nutrition standard Food for Special Medical Purpose (FSMP). Other ingredients for pharmaceuticals where we have attained a reputation for quality excellence include generic APIs such as controlled substances and keto acids and intermediates such as phosphonium salts and benzophenomes.
A long-term partner to the biotech and pharma industry for cell culture solutions
Our cQrex™ range of dipeptides and performance boosters offer unique benefits to improve the solubility, chemical stability and metabolic state of your cell culture media. We provide a broad range of high-quality substances including GMP peptides and keto acids that are designed to address key issues in mammalian cell culture. All grades are animal-origin free, available at commercial scale, and ready for efficient integration within your own systems. We also provide our cell culture customers with a range of value-adding services including screenings, customized booster development on-demand and regulatory support. Contact us now to order your sample kit.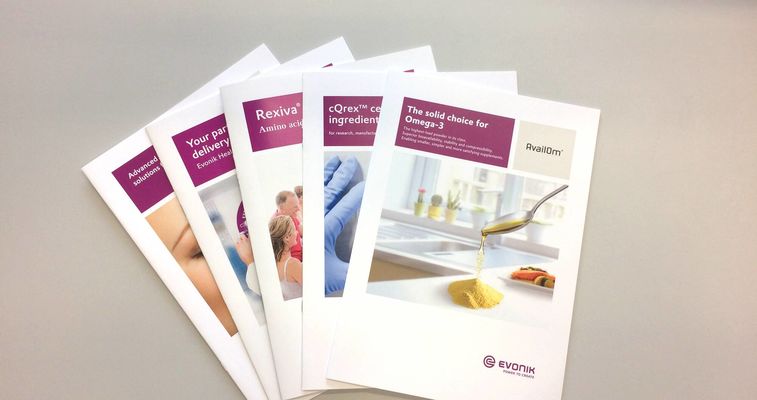 Looking for information compiled in one document? Our brochures offer an overview of relevant details in just a few pages.