EUDRAGIT® Functional Polymers for Oral Solid Dosage Forms
EUDRAGIT® polymers deliver unrivalled versatility to unlock the potential of your API
The EUDRAGIT® portfolio of functional polymers delivers unrivalled versatility and reliability to help protect your API, boost drug product effectiveness and reduce formulation risk. With a proven record for safe applications that spans more than 60 years backed by monographs across all major pharmacopoeias, they are ideal for use with all oral solid dosage forms including multiparticulates, regular or matrix tablets and hard or soft-gel capsules. EUDRAGIT® polymers are easy to handle and process at any scale, with multiple options available for supply as aqueous dispersions, granules, organic solutions, powders, or ready-to-use powders. EUDRAGIT® polymers are compatible with all relevant process technologies including film coating, melt, wet or dry granulation, hot melt extrusion, micro-encapsulation and spray drying. Furthermore, all of our polymers are manufactured to a consistent high-quality, with established, audited sites helping to provide global supply security.
EUDRAGIT® polymers can help match virtually any target release profile
EUDRAGIT® polymers can be used individually or in combination to match virtually any target release profile including immediate, delayed, sustained, pulsatile, accelerated and zero order release. Standard options per coating layer include the use of a single EUDRAGIT® polymer, or a combination of either EUDRAGIT® polymers or with other polymers, as well as certain other oral excipients and drug substances. Evonik's proprietary AEMP® (Advanced Excipient Manufacturing Process) technology may also be leveraged to combine the functional benefits of different EUDRAGIT® polymers to create new combination polymers that can further improve functionality and create new opportunities in formulation development and drug product design.
EUDRAGIT® polymers for immediate release
EUDRAGIT® E polymers provide a range of attractive coating solutions to improve swallowability, mask unpleasant tastes or odors, and protect the API from environmental influences such as light, moisture or oxygen. In addition to being insoluble in saliva and readily soluble in the stomach for fast drug absorption, they feature a low viscosity, have a high pigment binding capacity and provide excellent film adhesion. EUDRAGIT® polymers are neutral in taste and smell, to help mask the bitterness of certain APIs or other unpleasant odors. To improve drug swallowability, they enable smooth, glossy surfaces for a pleasant feel in the mouth and are highly effective in coatings as thin as 10 to 20 μm. In addition to granules, organic solutions and powders, we can also provide EUDRAGIT® E PO ReadyMix custom-made powder blends for fast suspension preparation. Pigments can also be consistently color-matched for batch-to-batch conformity.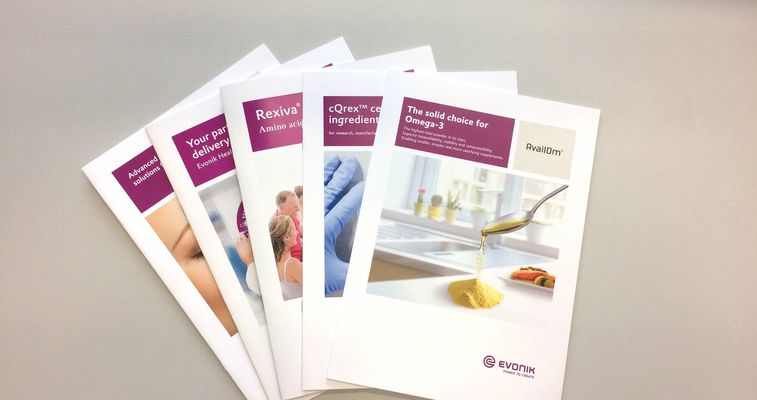 Looking for information compiled in one document? Our brochures offer an overview of relevant details in just a few pages.
EUDRAGIT® polymers for delayed release
Evonik is the global leader for delayed release, with its broad range of enteric polymers such as EUDRAGIT® L 30 D-55 and EUDRAGIT® FS 30 D, having set the gold standard in gastric resistance and gastrointestinal targeting for more than 60 years. EUDRAGIT® L and EUDRAGIT® S polymers are highly stable and can be easily combined with other polymers or oral drug delivery technologies for precise targeting and rapid drug release either in the small intestine or the colon. In addition to EUDRAGIT® L and EUDRAGIT® S polymers having many well-defined characteristics to protect the gastric mucosa from aggressive APIs, they also have decades of literature highlighting their ability to safely protect the transit of APIs that are sensitive to gastric fluid. EUDRAGIT® enteric polymers have also been used to achieve high API concentrations in the intestine, help reduce the daily dose, and avoid potential systematic side effects associated with specific parts of the gastrointestinal tract. Evonik has also developed an advanced new combination polymer marketed as EUDRAGIT® FL 30 D-55 that provides highly flexible coatings without the need for plasticizer addition. Thus, it is the new polymer of choice for enteric coatings on multiparticulates for further compression to multi-unit tablets.
EUDRAGIT® polymers for sustained release
Evonik has been leveraging its highly flexible portfolio for sustained release to help pharmaceutical companies optimize drug effectiveness and improve patient compliance for more than 50 years. Our broad range of insoluble, pH independent swelling, highly permeable EUDRAGIT® RL and low permeable EUDRAGIT® RS polymer grades can be combined with each other to tailor coating permeability. EUDRAGIT® NM is another polymer in our sustained release portfolio with a neutral ester functional group that is available as an aqueous dispersion, and enables highly flexible sustained release coatings without the need for plasticizer addition. We have unrivalled expertise in diffusion controlled coated multiparticulates and matrix tablets, as well as a strong track record in supporting customers to develop time-controlled formulations such as once-per-day dosing and pulsatile release.
EUDRAGIT® polymers for solubility and bioavailability enhancement
Evonik has decades of polymer, process technology and formulation development expertise to overcome poor API permeability and solubility challenges, and thus help enhance bioavailability. In particular, we bring together highly specialized capabilities across amorphous solid dispersions, API and silica technologies. A range of EUDRAGIT® polymer options for immediate, delayed and sustained release are available to enhance solubility. This portfolio, which includes various EUDRAGIT® E, EUDRAGIT® L and EUDRAGIT® FS polymers, has well-defined processing characteristics for spray drying, hot melt extrusion, layering and granulation processes, as well as robust thermoplastic properties and broad miscibility with APIs and other pharmaceutical excipients. Additional services for down-streaming and further processing to final dosage forms are available to support speed to market. In addition, predictive systems developed by Evonik can be used to help select lead carrier excipients and process parameters in early development stages.