High purity amino acids for nutritional applications
Amino acids are essential building blocks of life and are involved in most biochemical processes in the human body. The amino acids found in proteins are called proteinogenic amino acids. These are all L-amino acids and can be divided into two categories: essential amino acids and non-essential amino acids. Essential amino acids cannot be synthesized by the body and must be obtained from the diet, while non-essential amino acids can be synthesized in the body. Both play an integral role in metabolism and achieving optimal health.
We offer non-animal derived amino acids that integrate seamlessly into functional foods, dietary supplements and vitamin-rich formulations. They can be used in a variety of applications to provide a range of health benefits from boosting the immune system to promoting tissue repair. Amino acids can be used to address dietary deficiencies, food intolerances and support nutrition. 
We provide amino acids for dietary supplements to optimize protein intake and meet specific nutritional needs for a healthy lifestyle. Dietary supplements can take the form of tablets, capsules, gummies, powders or drinks. Amino acid supplements can prevent nutritional deficiencies and support anti-fatigue, ammonia detoxification, stimulation of protein synthesis and muscle growth. Our amino acids are manufactured and supplied to the highest quality standards. Supplements with amino acids can be incorporated into a variety of eating plans. 
Amino acids can be used to enrich foods, elevating taste while preserving nutritional value. Food innovators use amino acids when developing functional foods. Amino acids can be used to regulate flavor profiles either alone or in reaction with other ingredients during cooking.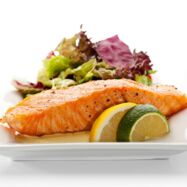 Amino acids provide an optimal protein source for meal replacements. Meal replacements must meet protein requirements and ensure adequate protein intake, while facilitating a healthy diet and supporting weight loss goals. Companies can rely on Evonik's high-quality amino acids that deliver substantial protein content, enhancing protein-rich dietary choices and fostering a sustainable approach to dietary objectives.
FOOD GRADE AMINO ACIDS, SALTS AND DERIVATIVES OF EVONIK
Benefits from our amino acid portfolio
Evonik has decades of expertise developing and manufacturing amino acids and related compounds. Our amino acids comprise products that fulfill all necessary regulatory and quality-related standards:
Non-GMO
Non-animal origin
Full control of all quality parameters (purity, microbiology, heavy metals, etc.)
Analytical methods in compliance with USP, FCC, Codex Alimentarius
Kosher and halal certification
Statements on allergens, residual solvents and BSE/TSE are available
Leading European-based global supplier of amino acids
Maximum supply security due to backward integration of our main amino acids such as methionine, serine & proline
Highly purified and suitable for all nutritional applications
Your partner for high-purity amino acids for nutritional applications
If you are looking for a secure supply of highly pure amino acids and a partner with decades of experience, come and talk to us! We help you to shape the nutraceutical landscape and provide consumers with the science-based solutions they are looking for. 
To learn more about how we can meet your needs for amino acids, visit our customer portal onCare or directly get in touch: healthcare@evonik.com