Dietary supplements that leverage our advanced health ingredients and oral dosage form expertise 
EUDRAGUARD® dietary supplement coatings boost product performance and consumer preference
EUDRAGUARD® is the industry's most versatile and reliable portfolio of nutraceutical functional coatings for use with food or dietary supplements. A broad range of coating options are available within the EUDRAGUARD® portfolio for use with supplements to increase consumer acceptability and enable targeted delivery of active ingredients to specific regions of the gastrointestinal (GI) tract. Specific application outcomes that can be created with our supplement coatings include increased bioavailability, extended stability, superior ingredient protection or more gentle processing. EUDRAGUARD® supplement coatings are well-known for the strength of their quality and regulatory status. If you need any further information not provided on this website, feel free to get in touch with us any time.
Applying more than 60 years of pharmaceutical functional coating excellence to dietary supplements
Evonik has been the market leader in the development and supply of coating solutions for use with pharmaceutical drug products for more than 60 years. This expertise, particularly around oral solid dosage forms, has been combined with our broad expertise with health ingredients, process development and product scale-up, to establish EUDRAGUARD® as a best-in-class portfolio of functional coatings for use with dietary supplements. Each EUDRAGUARD® technology is non-animal derived, and provides a smooth, even finish to enhance the visual appeal and swallowability of a range of oral dosage forms including tablets, hard or soft-gel capsules and multiparticulates. For formulation flexibility, a broad range of pigments, flavors and fragrances may be added to each formulation, with various grades available to match specific requirements. To protect sensitive ingredients, EUDRAGUARD® technologies are easy to process due to their rapid suspension preparation, short spraying times and low spraying temperatures. They are also compatible with a range of coating equipment.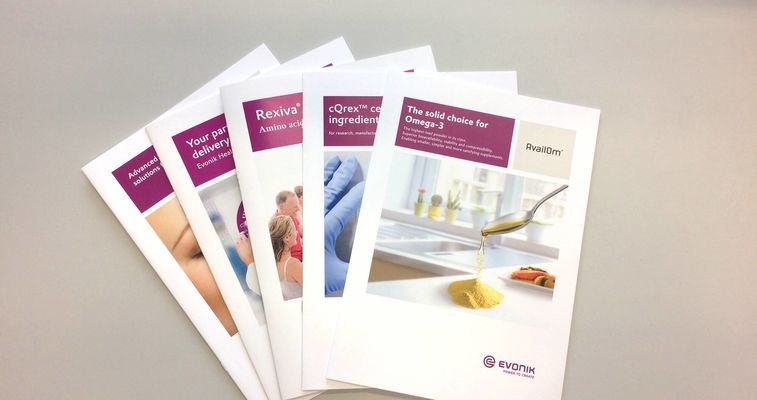 BROSCHURES
Looking for information compiled in one document? Our brochures offer an overview of relevant details in just a few pages.
Dietary supplement coatings to protect your health ingredients and release them at the right time, place and duration
There are many health ingredients that require formulations with well-defined release profiles to ensure they are best absorbed at specific sites within the GI tract such as the stomach, colon or small or large intestine. EUDRAGUARD® functional supplement coatings can not only be used to create precise immediate, delayed or sustained release profiles, but help to enhance solubility to improve ingredient absorption and increase bioavailability. Other health ingredients require EUDRAGUARD® coatings to overcome stability challenges caused by gastric juices, bile acid or enzymes in the small intestine. Some health ingredients can require a specific coating layer to protect the supplement from moisture or other ingredients or reduce the risk of reflux. The protective properties of EUDRAGUARD® products can not only address these formulation needs but as a further advantage also improve the consumer experience by masking unpleasant tastes or odors or enhancing swallowability.
A broad portfolio of dietary supplement coatings providing the flexibility to deliver specific formulation or application outcomes
Our portfolio of EUDRAGUARD® supplement coatings for targeted functionality for nutraceutical effectiveness and the reliable release of health ingredients at the right time and place includes:
EUDRAGUARD® protect is designed for taste and odor masking, the protection of ingredients from moisture or other ingredients, to enhance solubility, and ensure immediate release in the stomach.
EUDRAGUARD® control can be used, in combination with alginate, to achieve a range of controlled delivery outcomes, such as the protection of sensitive ingredients from acidic conditions in the stomach, avoidance of mucosal irritation, targeted release at a specific pH or sustained release over during passage through the GI tract.
EUDRAGUARD® biotic is ideal for use with prebiotics, probiotics and other health ingredients that are targeted for precise colonic delivery.